Hardingfele Club & Norwegian Fiddling
Hardingfele club is free but tips toward this website's annual cost are welcome!
Enter the amount you wish to donate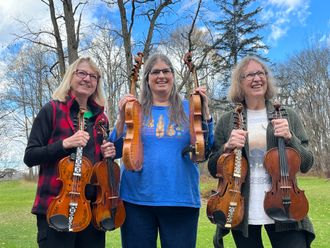 0:00/2:32

0:00/1:40

0:00/2:49
About Hardingfele Club  
We are a small group that meets once a week over zoom, and occasionally in person, to review our large repertoire and talk about Norwegian music/dance and all things hardingfele (Hardanger fiddle).  We play Norwegian tunes on regular fiddle as well.  We welcome new members, ideally people who are my students but not necessarily, who are fairly advanced on hardingfele, or at least on violin/fiddle, possess a playable hardingfele, and who have a bunch of Norwegian dance tunes under their belts already or are quick & motivated learners.  Our goals are to perfect our existing repertoire of springar/gangar/halling/marsj tunes, to follow up after HFAA, NFF, Mendocino and online workshops by practicing the new tunes we've learned, to improvise the occasional harmony on vals and reinlender tunes, including from the HFAA Samspel tunebook, to tackle tunings other than ADAE on hardingfele and vanlegfele (regular fiddle), AND most of all, to play all of it well for dancing.  Contact me if this more or less describes your goals too! 
Club news
We meet Thursday mornings, 11 to noon online, with a different geographic focus each week, cycling through our repertoire from Hallingdal, Setesdal, Valdres, Vestlandet, Telemark, Numedal, Finnskogen, Røros & Gudbrandsdal as well as some Runddans or other Norwegian tunes.  We had a very successful and fun weekend retreat in November 2022, and are planning another in 2023.
Resources
I've gathered audio, video, dance info and sheet music for our tunes from each geographical region on its own page.  These pages require a password and are for club members only.  Contact me if you have questions or are interested in joining us!
1. Telemark & Numedal Marsj, Springar & Gangar/Halling
2. Hallingdal & Setesdal: Marsj, Hallingspringar, Laus (Halling) & Setesdal Gangar
3. Valdres: Marsj, Springar & Halling
4. Vestlandet: Marsj, Springar & Rudl/Halling, and a few Shetland or Shetland-inspired tunes
5. Røros & Gudbrandsdal: Pols, Springleik & Halling (regular fiddle)
6. Finnskogen: Halling & Pols (regular fiddle)
7. Runddans (pan-Norwegian): Vals, Reinlender, Polka, Masurka, coming soon