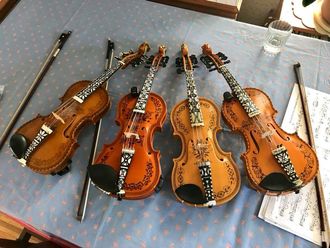 About us:  We are a small group that meets once a week over zoom, and occasionally in person, to review our large repertoire and talk about Norwegian music/dance and all things hardingfele (Hardanger fiddle).  We welcome new members, ideally people who are my students but not necessarily, who are fairly advanced on hardingfele, or at least on violin/fiddle, possess a playable hardingfele, and who have a bunch of Norwegian dance tunes under their belts already or are quick & motivated learners.  Our goals are to perfect our existing repertoire of springar/gangar/halling/marsj tunes, to follow up after HFAA, NFF, Mendocino and online workshops by practicing the new tunes we've learned, to improvise the occasional harmony on vals and reinlender tunes, including from the HFAA Samspel tunebook, to tackle tunings other than ADAE on hardingfele, and to sometimes play halling/pols/springleik tunes on vanlegfele (regular fiddle), AND most of all, to play all of it well for dancing.  Contact me if this more or less describes your goals too! 
Club news:  Next meeting Oct 6 (Hallingdal theme), Oct 13, 20, 27 and so on, cycling through our repertoire from Valdres, Vestlandet, Telemark and beyond.
Hardingfele club is free but tips are welcome!
Enter the amount you wish to donate
Resources for members
I will be adding more videos, audio and sheet music to match, as well as text info about Norwegian music, over the next weeks and months. 
We'll start this tour of the categories of the Hardingfele repertoire with the 4 main kinds of springar tunes, which are all in 3/4 time:
1. Telespringar / Numedalspringar
3 beats in each bar are long-medium-short.   
Think when dancing "GO, DOWN, UP"  One of these videos shows the dance steps.