Biography 
Laurie Hart is a fiddler from Ithaca in central New York State. She specializes in Irish, Québécois, Scandinavian, French/Breton and American dance music.  She also plays Norwegian Hardanger fiddle and Swedish nyckelharpa.  Laurie is known for her beautiful tone, agile bowing, large repertoire, and fidelity to the diverse styles she plays.  She has 10 albums in her discography as well as two tunebooks.  She has also created the soundtrack for two documentaries, and appears as a guest on many other artists' albums. 
Laurie began playing classical violin at age 6, played in many a student orchestra at home and abroad, including a high school orchestra exchange with Venezuela, and with Eastman School of Music's Opera Orchestra in Heidelberg, Germany.  Laurie eventually decided fiddling was more her style, and since 1986 she's been performing at contradances, concerts, weddings, festivals, dance/music weekends and camps across the U.S., Canada and Northern Europe. Unfortunately she contracted chronic Lyme disease in 2012, and she's had to curtail most gig-playing, focussing on teaching instead, which she finds very rewarding.
Laurie's ensembles, many of which recorded albums over the years, have included duos with guitarists William Coulter and Paul Marchand and pianists Greg Sandell and Bob Berch; Irish ensembles with Arbo Doughty and Mitzie Collins (see video with Irish dancing); Scandinavian fiddle groups Daughters of Sweden, Fiddlespel,  Stefhan Ohlström & Andrew VanNorstrand; and her trio Alizé which played music of France and Brittany.  She explored many kinds of fiddle music over three decades with her buddies Rick Manning, Dave Davies and Tom Hodgson in their everlasting contradance quartet, the Contradictions.
Laurie's passion for fiddling, dancing, languages and travel has led her on research and tune-collecting expeditions to Ireland, Québec, Scandinavia and France, which in turn have led to writing magazine articles and tunebooks, and to new recordings and workshop offerings. She was the recipient of both a Fulbright Award and an American-Scandinavian Foundation grant to study the music and dance in Norway and Sweden. Her five-volume CD/tunebook series,  Scandinavian Fiddle Tradition is just about finished, and was partly recorded in Sweden. Her highly respected tunebook Danse ce soir!: Fiddle and Accordion Music of Québec, with co-author Greg Sandell, was published by Mel Bay in 2001, and Laurie has made many trips to La Belle Province to collect tunes, perform and record, before and since. 
Laurie began offering fiddle lessons in 1990 and very much enjoys teaching children and adults.  She has taught fiddle classes at many camps and weekends, including Ashokan Northern Week, Fiddle Hell Massachusetts, Falling Waters, Ithaca Suzuki Institute, Northeast Heritage Music Camp, and Antons Vänner (Finland).  She runs a Hardingfele club, which meets weekly online; experienced new members are welcome.  Laurie is always happy to pass on her vast repertoire and her technical & musical expertise to new students at every level.
My Instruments 
Mostly I play my regular violin, which I call a fiddle since I primarily play traditional (folk) music on it.  Mine was built in 1937 by W.J. Smith in Mt. Kisko NY, and I've had it, along with a Finkel bow, since I was 15 years old...incredible!  I also play some other fascinating fiddle-like objects.  A radio show was devoted to my solo playing of nyckelharpa and Hardanger fiddle in 2006. 
The Norwegian Hardanger fiddle, or hardingfele, dates back to the 1600s and is played in the southwest part of Norway (regular fiddle is  played in the northeast).  Hardingfele has ink flower drawings and inlay of abalone, bone and ivory.  Four strings are played by the bow, usually two at a time.  Meanwhile below the fingerboard, five sympathetic strings ring along and create the hardingfele's unique resonance.  Most of my Scandinavian albums have some hardingfele tunes on them.  Mine was built in 2001 by the great Norwegian player Hauk Buen (1933-2021), from whom I was privileged to have instruction as well.  For more info on this instrument, visit the Hardanger Fiddle Association of America. 
The Swedish keyed-fiddle, or nyckelharpa, dates back to the 1300s.  Its stronghold is the province of Uppland.  I play the chromatic type tuned CGCA, developed in the 1920s.  It has 16 strings, 12 of which are unbowed sympathetic under-strings. Instead of using fingers on the melody strings to change their pitch as on a fiddle, the nyckelharpa has rows of wooden keys attached to pegs which touch the strings.  All my Scandinavian albums have some nyckelharpa tunes on them.  I actually sold both my 'harpas a few years back, and am taking a break from playing it, but may buy another one at some point.  I still teach 'harpa students and play its lovely repertoire on the fiddle.  For more info on this instrument, visit the American Nyckelharpa Association.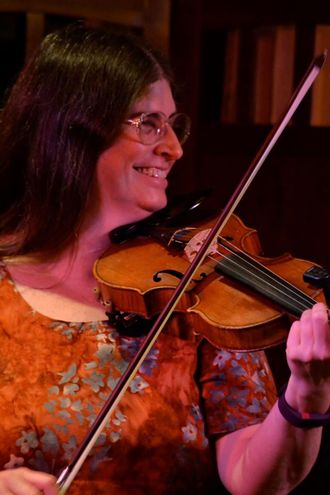 My Repertoire
My specialties are the traditional fiddle and dance music of:  
Ireland
Québec  
Sweden & Norway
France (especially Brittany)
and American Contradancing (which itself tends to be a mix of New England, French-Canadian, Southern Old-time (Appalachian), Scottish, Irish and recently composed tunes)  
I also have significant repertoire/experience in each of these musical traditions:    
Bluegrass  
Texas  
Cape Breton  
English Country Dance  
Latin Waltzes & Tangos  
Eastern European    
Danish & Finnish 
Baroque & Classical