Lessons and
Group Sessions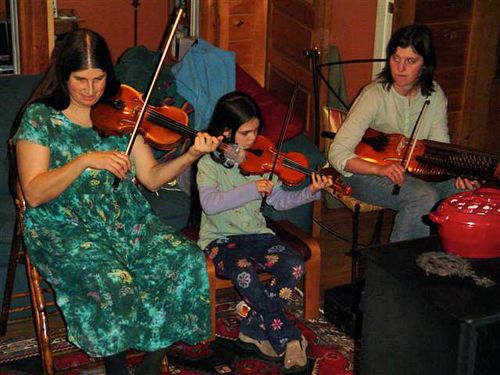 Rosin up your bow and let's play! 
I have been teaching fiddle/violin since 1990, and playing since I was six years old.  I offer online lessons via Zoom/Skype/FaceTime from anywhere, as well as in-person lessons at my house in Ithaca, New York State, USA.   
My specialties include traditional Irish, Swedish, Norwegian, Contradance and Québécois fiddling, as well as French, Scottish, old-time, bluegrass, baroque/classical and many other types of tunes.  I also teach Norwegian Hardanger fiddle (hardingfele) to experienced violinists/fiddlers.  Although I don't currently own a nyckelharpa, I still teach 'harpa students, and the lovely repertoire of the Swedish nyckelharpa, from my fiddle.
I teach mostly by ear and via recordings, but am happy to help people learn to read and write music notation as well. For beginners, the focus is on how to hold the instrument, make a good sound, play in tune, and learn to play some tunes. For more advanced players, the focus is on building a repertoire of tunes in a particular style or styles, bow patterns, ornamentation, chords and harmonies, and playing with a good danceable rhythm.
I love to teach adults as well as kids age 10 and up.  Many of my students are professional fiddlers and teachers themselves, and we have fun playing together and working on tricky tunes and new styles of playing.  I also love showing brand new beginners how to hold a fiddle (I find this can really only be done in person, not over the internet) and to assemble their first notes into a tune, and teaching students at every level in between.  Some of my beginners are seniors.  It's never too late to start, switch instruments or explore a new style, or to get back into playing music if you played when you were younger.  Feeling ready?  Contact me. 
Group Sessions
I have wide experience teaching group classes and leading sessions as well, and plan to start up a small intermediate-advanced session for my active students, and possibly a few other friends, at my house soon, alternating French-Canadian (Québec) tunes one week and Swedish tunes another week.  Contact me if you live near (or are passing through) Ithaca NY and are interested in either or both.  
I also run an advanced Hardingfele club over zoom....so if you've got a hardingfele and a bunch of Norwegian tunes under your belt and a desire to learn more, drop me a line!
Scheduling  
I teach year-round, weekdays and sometimes weekends. Lessons and sessions take place online or at my home in downtown Ithaca.  I occasionally offer bi-weekly lessons of 60 (or 90 or 120) minutes, especially to out-of-towners, but I find students make better progress with weekly lessons of 60 or 45 minutes.  This is especially true for beginners.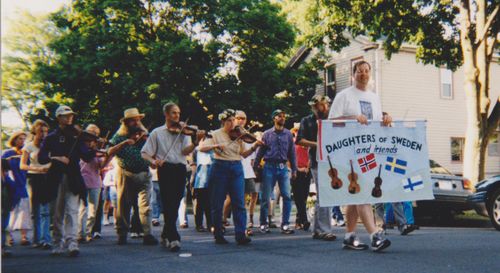 Our Mutual Commitment 
When you sign up for lessons, you and I make a commitment to each other. I am committing to be a good teacher and help you learn what you want to learn efficiently, which involves getting to know your specific goals and particular learning style. This includes in-lesson time as well as time I put in outside the lesson to transcribe and learn tunes for you, make recordings to send to you, organize the occasional student party, and keep you informed of opportunities to play and hear fiddle music. You are committing to show up on time for your lessons, to keep your fiddle in good repair, and to play your instrument reguarly. 
Making Progress 
It's up to you how much you play, but the more you do, the better the experience is for both of us and the faster you'll learn. For beginners especially, even a few minutes of practice a day are more beneficial than cramming the day of your lesson. At any level of skill, with an hour of careful practice several times a week, you will make great progress. You will learn much faster if you also listen to fiddle music a lot and attend dances, festivals, workshops with other teachers, concerts, and jam sessions. Listen in your car, while cooking, exercising and/or working. This is an aural tradition that can't be learned from books or just from me. Make it part of your life.
Reviews of My Teaching  
" I enjoyed your classes the most of all the workshops. The material is great  and your musical sensibilities are right on target. You're also a very good player and instructor, an uncommon combination of skills for sure." --Greg
"I am so enthused after the last class... it fulfilled a desire in me I've had forever, it was the most fun I've ever had fiddling.  I'd been feeling that I never progress. Then, we learned the last tune. First, I discovered that I CAN learn it, THEN, I learned the harmony, playing some new notes I've never even played before, and with relative ease! It was so encouraging for me to realize I have progressed... I feel so excited to keep on going!  Thank you for being such a patient and welcoming teacher. Your willingness to carry students who are inexperienced with no judgment has provided me a way to ease in and begin to build some confidence. I am truly grateful." And a year later, "I really admire how gracefully you handle so many varied and sometimes difficult personalities. Every time we are together I feel that I learn something new, and often beyond the realm of music. I think you are a wonderful teacher and that your music is really only a part of what you offer. It's a joy to work, and learn, with you."  --Regina   
"Thanks for your wonderful lessons.  When you start playing a harmony to our fledging melodies, I feel like I could fly off the earth!  You are so patient and talented."   --Jeane 
"This class is what most excited my teenage son and helps to keep him involved with playing."  --parent at Ithaca Suzuki Institute fiddle class 
Here's what my students at the Fiddle Hell Massachusetts weekend workshop in 2014 had to say: 
"Laurie is an incredibly organized, clear teacher." 
"Good at handling the wide range of abilities in her classes.  
"Skillful, smart, good teaching. Her "master class" class was great. Classes that addressed bowing technique were very helpful for where I'm at in my playing.  
"I loved her Swedish workshop. She is the best - kind and friendly, and didn't dumb down the session - we had to keep up with her.  
"Her session on Petronella was especially good because she incorporated strategies on learning by ear as she went. 
"Laurie was marvelous, an incredible artist and teacher!"