Traditional fiddling in many styles
Welcome!
I  play traditional dance music of North America and Europe, especially Québec, Scandinavia, Ireland, France and the contradance music of Northeastern USA.  My instruments are violin (fiddle), Norwegian Hardanger fiddle (hardingfele) and Swedish keyed-fiddle (nyckelharpa).  Click on the orange arrow below for short previews of 3 tracks from my albums, and 3 from the two new Scandinavian albums I will release this year.
0:00/3:03

0:00/3:12

0:00/3:51

0:00/3:14

0:00/2:24

0:00/3:02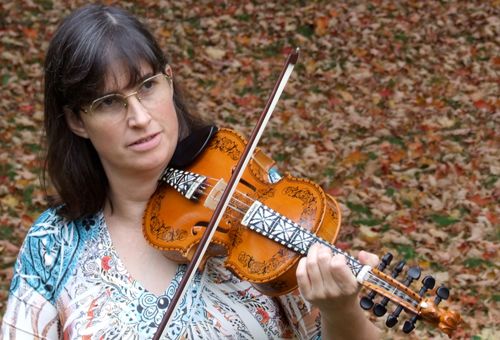 I'll be releasing two CDs this year, completing my five-volume Scandinavian Fiddle Tradition series (ScanFidTrad) that I recorded at Electric Wilburland Studio in Ithaca and in Sweden in 2015 (the link takes you to a photo diary of that trip). You can hear more sample tracks of CDs FOUR and FIVE.  I'm so excited to be completing this project!  
I'm also creating a tunebook, entitled Give a Coin to the Fiddler, with all 140 tunes and harmonies from the 5 CDs, with extensive background and stylistic information to help you learn to play these varied and beautiful tunes, which range from easy to challenging.  I've commissioned the cover painting, the transcriptions are done, and I'm partway through the writing and book layout processes.    Look for this spiral-bound book, and a box set of the 5 CDs, in the coming months.   
You can study fiddle, hardingfele or nyckelharpa with me in private lessons, either at my house in Ithaca, New York USA, or online from anywhere.  I love to teach at all experience levels, adults and kids age 10 and up.  Contact me if you are interested in lessons.